NUML Islamabad Summer Courses 2023 are now available to all students enjoying their summer holidays and wishing to acquire some new technological know-how or take part in activities during their spare time. For those who are interested, NUML Islamabad has open admission to functional courses. At todayjobs .pk you will find information about the duration of courses and the kinds of courses provided at NUML Islamabad during the summer. This is where you will find details about NUML University's Summer Short Courses in 2023. because short-term courses run between 4 and 6 months long, and they offer a range of short courses.
NUML University Short Courses Admission 2023 Apply Online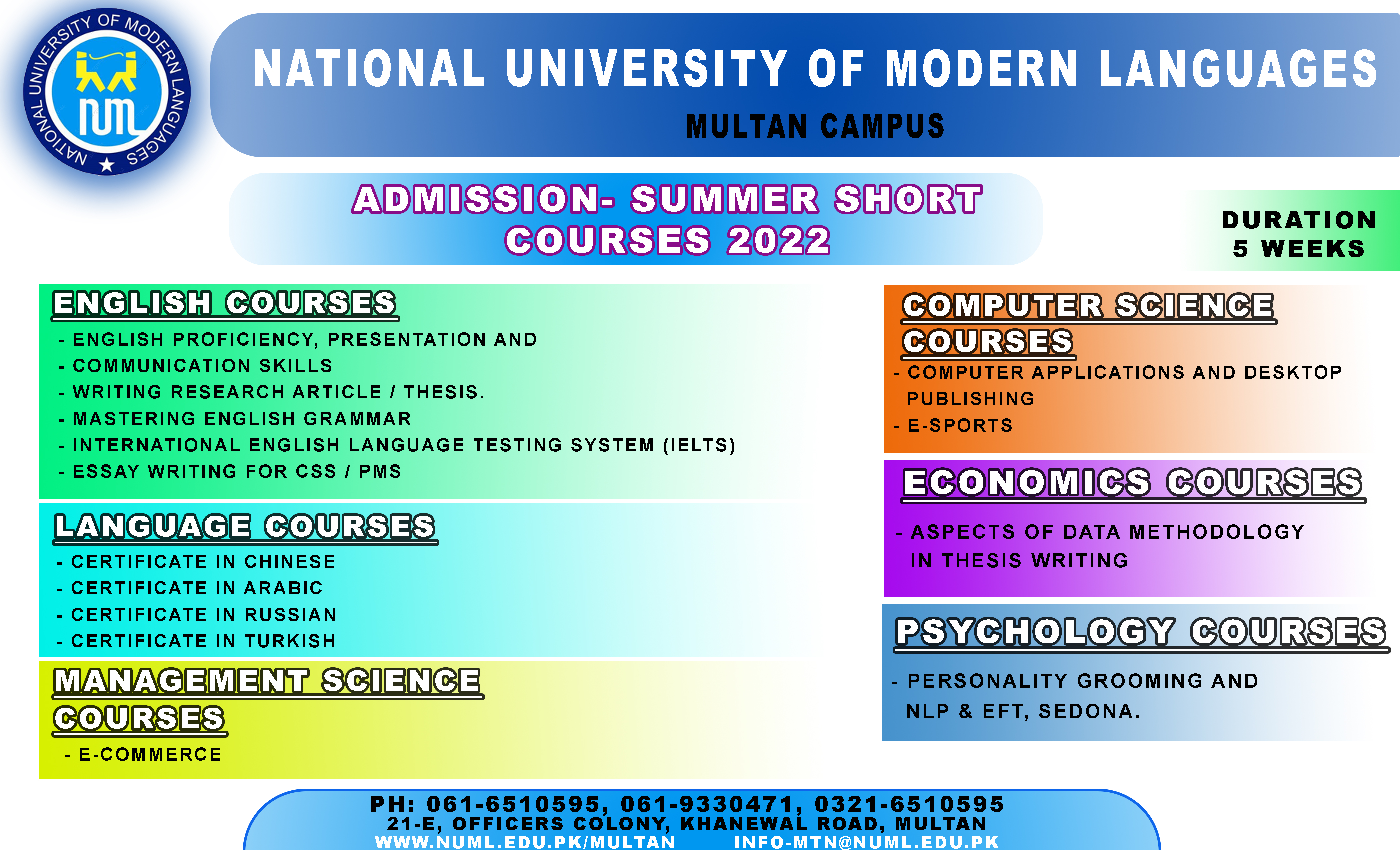 NUML University Short Courses Admission 2023
NUML is among the most prestigious universities in Pakistan that offer top high-quality education to students. is why they prefer to be admitted here to study Foreign languages from highly trained instructors of different languages. NUML Summer Classes 2023 Final Day will be available in the near future. If you are looking to be admitted to the NUML Short Courses in Languages 2023 then take a look at this article since here we've discussed the eligibility requirements, fees/charges as well as registration procedure information.
Summer Language Short Courses in NUML 2023:
Arabic

Bangla

Balochi

Chinese

English

French

German

Hindi

Italian

Indonesian (Bhasa)

Japanese

Korean

Persian & Afghan Persian

Pashto

Punjabi

Russian

Spanish

Tajik

Turkish

Uzbek

Urdu
Special Courses In NUML Isb 2023:
Diploma and Certificate in Business Administration

Diploma in Tafseer, Usul-i-Fiqh

Governance & Public Policy Department's

Diploma in Disaster Management

Project Management

Human Resource Management

Business Process Re-Engineering

Corporate Governance

Electronic Governance

Public Administration
Eligibility Criteria:
Candidates looking to apply for a place in NUML University Short Courses 2023 should have completed Matric or higher from an accredited institution. Also, Check MEXT Scholarship 2023 
The applicants who are interested in applying should be aware interested applicants are informed that the National University Of Modern Languages, Islamabad, admission is now open. Interested applicants are able to submit their applications at the earliest possible time. Specific Application Process Eligibility Criteria for applying online for admission and contact details are provided in the official announcement of the institute below. It is also available online on the official website numl.edu.pk
NUML Islamabad Admission 2023 Last date
The last date application deadline to be considered for National University Of Modern Languages, Islamabad NUML Islamabad admission 2023 is 20 June 2023.